Engaging and educational experience awaits UAE school students at Expo 2020 Dubai's Visitor Centre
School students can now explore Expo 2020 Dubai through a lively new Visitor Centre that offers them an exclusive sneak preview of the future through engaging and inspiring activities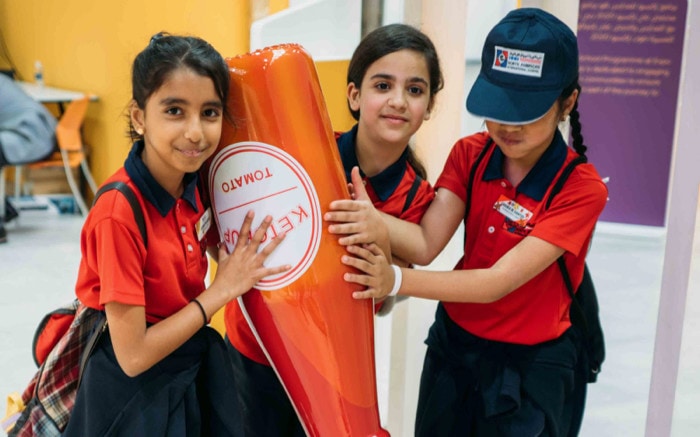 Engaging and educational experience awaits UAE school students at Expo 2020 Dubai's Visitor Centre School students can now explore Expo 2020 Dubai through a lively new Visitor Centre that offers them an exclusive sneak preview of the future through engaging and inspiring activities.
- Schools can explore specially-curated content and learn what to expect in 2020
- Hands-on, fun and informative activities created to spark imaginations and inspire
- More than 1,000 students from across the UAE have already visited the centre
DUBAI, 20 November, 2018 – School students can now explore Expo 2020 Dubai through a lively new Visitor Centre that offers them an exclusive sneak preview of the future through engaging and inspiring activities.
Designed to complement students' learning across multiple age groups, the specially-curated Visitor Centre offers a glimpse of what to expect at Expo 2020, while also exploring the legacy of World Expos and the world-changing innovations that have been revealed during the series' 167-year history.
It offers hands-on, captivating and age-appropriate content, while bringing to life Expo 2020's theme of 'Connecting Minds, Creating the Future' and subthemes of Opportunity, Mobility and Sustainability in a fun environment.
School groups can witness first-hand the rapidly developing Expo 2020 site, as well as take a fascinating virtual 'flying' tour through a 7 metre-wide curved screen. As the expected more than 180 participating countries reveal the designs and themes of their pavilions, students will be able to explore the world ahead of millions of visitors.
Alya Al-Ali, Director – Expo School Programme, Expo 2020 Dubai, said: "Youth are at the heart of Expo 2020 Dubai, as we seek to inspire and empower young people by expanding their horizons. The Visitor Centre is designed to involve school students on the journey to Expo 2020, and is one of Expo's many outreach initiatives to ensure that they carry forward a lasting legacy into the future.
"We are inviting schools to take advantage of this wonderful opportunity to discover more about Expo 2020 through the Visitor Centre, as we look forward to bringing together an expected more than 180 countries for a six-month celebration of innovation."
The Visitor Centre, curated as part of the Expo School Programme, has already attracted substantial interest from across the UAE and has welcomed more than 1,000 public and private school students during its soft opening.
Earlier this month, the Visitor Centre hosted the first Next Gen World Majlis, a special series designed to empower school students from across the UAE to contribute to the global development agenda by engaging in meaningful conversations.
The first Next Gen World Majlis, a collaboration between the Expo 2020 World Majlis and Expo School Programme teams, saw 17 students, aged 14 to 17, come together to discuss opportunities and challenges related to the future of urban living, and share ideas that could help improve cities for future generations.
The Expo School Programme offers a range of initiatives and resources designed to enable students to learn about Expo 2020 Dubai's impact and global vision in an enjoyable and engaging way, as part of its commitment to contribute to education in the UAE. The team includes experienced teachers who ensure the educational value of resources and activities developed.
The Expo School Programme will continue to collaborate with schools across the UAE in the lead-up to and during the six months of Expo 2020, helping to create a meaningful and sustainable legacy that can be carried forward for generations to come, in the UAE, the region and beyond.
To learn more about the Expo School Programme and its initiatives, including the Visitor Centre, learning resources, the Expo 2020 Dubai Champions programme and workshops for educators, visit schools.expo2020dubai.com or email schools@expo2020.ae.
More than 200 participants, including 180 nations, corporations, multinational organisations and educational institutions, will gather in Dubai between 20 October, 2020 and 10 April, 2021 for Expo 2020 Dubai. The celebration of human ingenuity is projected to record 25 million visits, with 70 per cent of visitors expected to come from outside the UAE – the largest proportion in the history of World Expos.