Expo 2020 ice cream van on nationwide tour
Expo 2020 is giving away 40,000 ice cream cones to local communities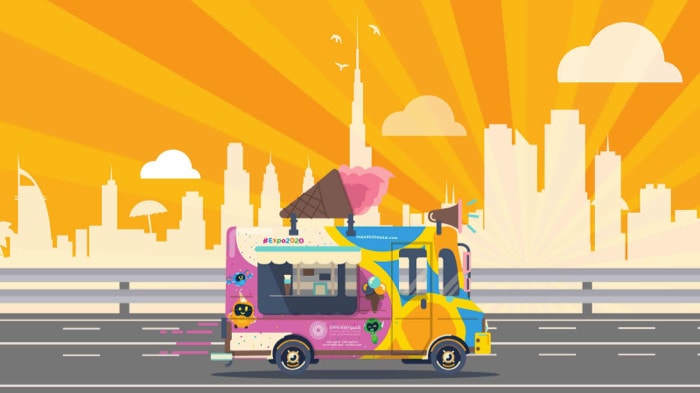 To celebrate Expo 2020 and the perfect weather in the UAE right now, a decked-out Expo 2020 ice cream van is giving away 40,000 ice cream cones to people across the seven emirates.
The van launched on 3 November and will be visiting more than 70 residential communities, offices and community centres throughout the UAE until 7 December, as one of the many ways UAE residents can be part of the Expo story.
In honour of some of the inventions that debuted at previous World Expos, including the ice cream cone, which was created at the 1904 Expo in St Louis, the Expo 2020 ice cream van will also be offering fun facts about Expo 2020 on the cones and napkins.
The frozen treats being given away include vanilla, chocolate and a vegan-friendly mango option. There will also be a special ice cream during UAE National Day, from 1 to 3 December, with sprinkles in the colours of the UAE flag.
Updates on the van's movements and planned locations are being posted on Expo 2020's social media, including Twitter (twitter.com/expo2020dubai), Instagram (Instagram.com/expo2020dubai), with the opportunity for residents to bring the truck to their local community, using #Expo2020 on social media.
This isn't the first time Expo 2020 has engaged with UAE communities to share the Expo spirit – in Ramadan earlier this year, 20,200 gift boxes were hand-delivered to households across the UAE.
There was also an invite to bring friends and family for the World's Greatest Show in the Making Tour, an exclusive tour of the Expo site that welcomed over 3,000 people, eager to get a glimpse of what's to come.