Five pandemic-related projects added to Expo's Global Best Practice Programme
New additions follow a call for grassroots innovations to challenges caused by COVID-19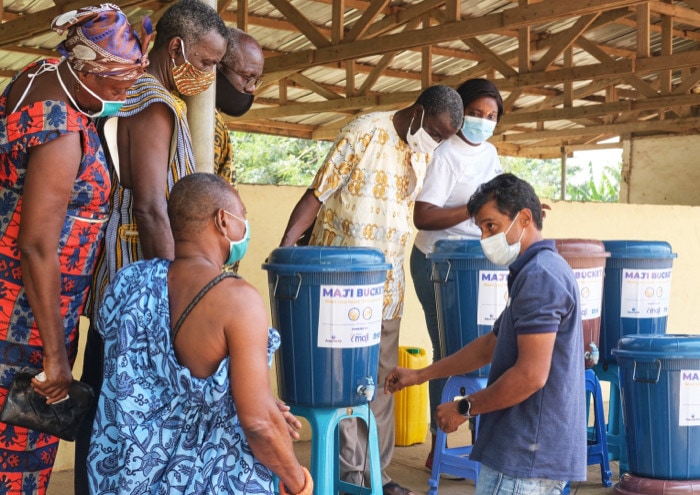 What do a low-tech invention for safe handwashing in rural Ghana, a social-distancing wearable made in Belgium and a programme helping Jordan's vulnerable communities grow their online businesses all have in common?
They are among the five new projects joining Expo 2020 Dubai's Global Best Practice Programme, following a call for short- and long-term solutions to the challenges brought on by the effects of the COVID-19 pandemic.
The quintet of additions – which also includes delivering essential healthcare using offline mobile-phone apps across remote communities and interactive videos to help keep kids active and happy at home – takes the number of best practice solutions to 50. All are simple, effective and locally based innovations that address some of the world's biggest challenges, including those laid out in the Sustainable Development Agenda – 17 global targets designed to achieve peace and prosperity for people and the planet.
Launched in September 2020, Expo's call for COVID-related proposals received applications from 318 projects, in 78 different countries, across five focus areas: Digitalisation; Education and Skills Development; Health and Wellbeing; Water, Sanitation and Hygiene; and Protecting Livelihoods.
The additional projects were announced on 21 April to coincide with World Creativity and Innovation Day – celebrating human ingenuity and the creative economy, and their essential role in helping communities throughout the pandemic.
They are:
SafeDistance, Lopos, Belgium: SafeDistance is a small, light, portable device that measures distance to other SafeDistance sensors in real time to ensure sufficient spacing between people. This wearable device immediately warns wearers when social distancing is not being respected through an alarm, flashing lights and vibrations. The device can also assist with track and trace for COVID-19 infections.
The Global Best Practice Programme honours a 2010 BIE mandate for all World Expos to spotlight solutions that can be replicated, adapted and scaled for greater global impact – highlighting World Expos as powerful platforms for inspiring change and driving human progress.