ENOC Link to fuel Expo 2020 Dubai fleet
Innovative digital mobile fuel delivery service will improve efficiency at largest event ever held in the Arab world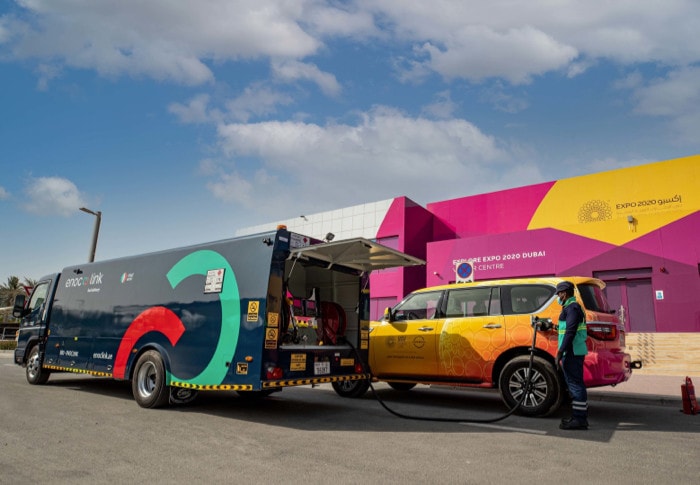 Expo 2020 Dubai's extensive fleet is set to be fuelled by ENOC Link, the digital mobile fuel delivery service for businesses in the UAE by ENOC Group, Expo's Official Integrated Energy Partner.
The arrangement will ensure reliable, safe and convenient access to fuel for the mega-event, helping Expo 2020 – which aims to be one of the most sustainable World Expos in history – identify ways to maximise efficiency.
Through ENOC Link's cutting-edge digital technology, Expo's fleet operations behind the scenes will be as impressive as the visitor experience – a safe, streamlined, seamless process that supports Expo's goal to showcase ideas and innovations that are shaping the future.
Among the features of the service is an end-to-end digital fuelling experience, coupled with advanced fuel analytics, fleet management and mileage reporting. The Expo fleet team will also be able to access a macro and micro view of fuel consumption to support with tracking – at an aggregated level, by site, and even by vehicle or equipment.
Expo 2020 will gain access to ENOC Link products including diesel, biodiesel B5 and B20, and petrol, provided by fuel trucks that are compliant with the highest international safety standards, delivering more than one million litres of fuel to the Expo fleet.
The ENOC Link agreement follows on ENOC Group's launch of its innovatively designed
Service Station of the Future
earlier this year, the first Leadership in Energy and Environmental Design (LEED) Platinum-certified service station in the world. Located at the Expo 2020 site, the station will serve the entire Expo 2020 fleet ahead of and during the six months of Expo, then the public at Expo City as part of Expo's legacy after doors close on 31 March 2022.