Health, safety and well-being of all participants is Expo's highest priority
Extensive provisions to ensure an exceptional and safe Expo for everyone are in line with the UAE's wider efforts to combat COVID-19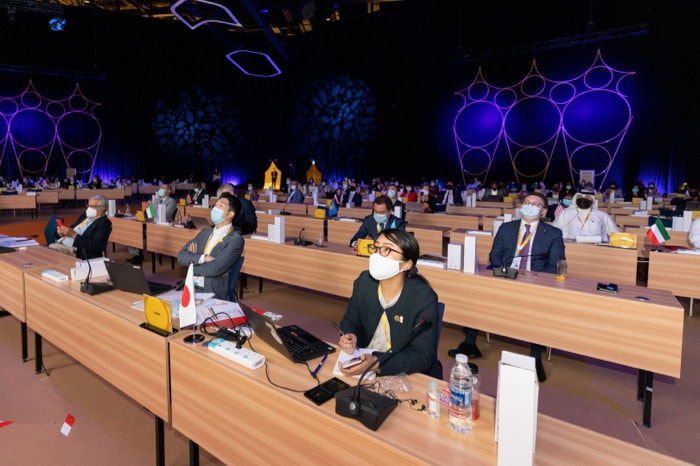 From thermal cameras and sanitisation stations to mandatory face-mask wearing, stringent social distancing regulations and free vaccinations for all official participants – the health, safety and well-being of everyone working at and attending Expo 2020 Dubai is Expo's first priority.

The measures, which include virtual inspections of workforce accommodation and the offer of the COVID-19 vaccine to all employees and their households, are all part of Expo 2020's far-reaching programme to safeguard all participants, workforce, suppliers, contractors and visitors.

The result of close collaboration with the UAE Ministry of Health and Prevention and Dubai Health Authority and in line with the latest information and advice from the World Health Organization, they ensure compliance with the most recent guidelines from leading medical, science and health experts.

In April, His Highness Sheikh Hamdan bin Mohammed bin Rashid Al Maktoum, Crown Prince of Dubai and Chairman of The Executive Council of Dubai, announced that Expo's vaccination programme would be extended to all official representatives of the countries taking part in Expo 2020.

The Expo 2020 Steering Committee, which met immediately after the recent International Participants Meeting (IPM), praised the announcement and urged all 200-plus participants to follow Expo's lead and join the vaccination drive.

The sixth and final IPM gathered more than 370 delegates from 173 countries to hear – and experience first-hand – the robust steps being put in place as Expo prepares to welcome the world in October.

Earlier this year, Expo 2020's compliance with the relevant safety standards and protocols was recognised by the Government of Dubai, when the Expo Pavilions Premiere was awarded the Dubai Assured stamp.