Korean culture has gone global – and its world takeover continues at Expo 2020
Phenomenal success of Squid Game is only the tip of a cultural cache being presented by the Republic of Korea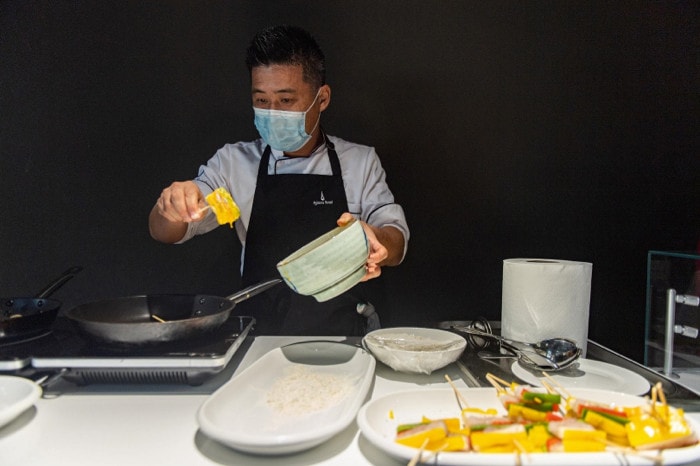 From Korean food to the increasing popularity of its entertainment industry – with K-pop stars, Netflix smash hits and Oscar-winning films aplenty – the Republic of Korea's cultural exports are making the whole world sit up and take notice. And the country's pavilion at Expo 2020 is riding the crest of this wave.

Two words are on everyone's lips the world over right now: Squid Game. The latest Korean phenomenon, the TV programme is one of the Netflix's biggest ever shows. A dystopian vision of a polarised society, the gripping series weaves a tight plot with social satire, melodrama and gratuitous violence – attracting more than 100 million viewers.

Fortunately for Expo 2020 visitors, the aforementioned satire, rather than violence, is at the heart of the Republic of Korea Pavilion, with staff dressed in guards' suits to host their very own Squid Game. The Dalgona Game Event invites guests to prise out a clean, unbroken shape from a dalgona – a popular candy found on the Korean streets. The winner takes it all: well, a packet of Korean instant noodles.

It's not just Squid Game that is spreading awareness about the country's culture. Since the drama was released in mid-September, stocks in the nation's lively entertainment sector, spanning K-pop bands to cinema, have boomed. The cult phenomenon was preceded by the headline-grabbing success of 2019 comedy thriller Parasite, which scored six Academy Awards for its disturbing yet compelling dissection of the divide between rich and poor.

When it comes to tackling tough subject matter, K-pop's most popular band BTS don't shy away, either. The band's popular members reportedly raked in a handsome USD 50 million in 2020, putting them among the top 50 celebrity earners in the world, according to Forbes. Their music doesn't get stuck on love, but instead delves into issues such as bullying, elitism and mental health. Their global appeal recently resulted in a collaboration with Coldplay on single My Universe, an anthem that mirrors Expo's aim to bring worlds together.

With 34 million followers on social media, Stray Kids – the eight-member boy group who are the official ambassadors of Expo 2020's Republic of Korea Pavilion, are another popular K-pop draw. Fans should mark their calendars for January 16, 2022, when the tenacious octet will perform to mark the Republic of Korea's National Day at Expo 2020.

Korean food is also one of the hot trends on plates in 2021. The number of visitors frequenting the restaurant at the Republic of Korea Pavilion – simply, but aptly, called K-Food – are definitely testament to this. The menu includes national delicacies such as kimchi, KBBQ (Korean barbecue), fried mandoo (dumplings), combination pancakes, hot pots and jjigae (Korean stew). Big on vegetables and seafood, with red meat treated like a condiment, its appeal also extends to the health-conscious.

And while K-Food's Chef James Kang laments how Korean food has gone mainstream, with "too many new western fusions", that fact underlines the country's constant endeavour to stay two steps ahead of the competition when it comes to culture, food and entertainment.

The buzz around the psychedelic, colour-shifting Republic of Korea Pavilion, one of the biggest hits during Expo's opening month, shows that the rest of the world is not only lapping up Korean food, but the country's wide range of cultural attractions.