It's time to get ready for Expo 2020: Swatch sets off official countdown clock
With 300 days to go until Expo 2020 Dubai welcomes the world to the UAE, Swatch's clock will count down the hours, minutes and seconds until doors open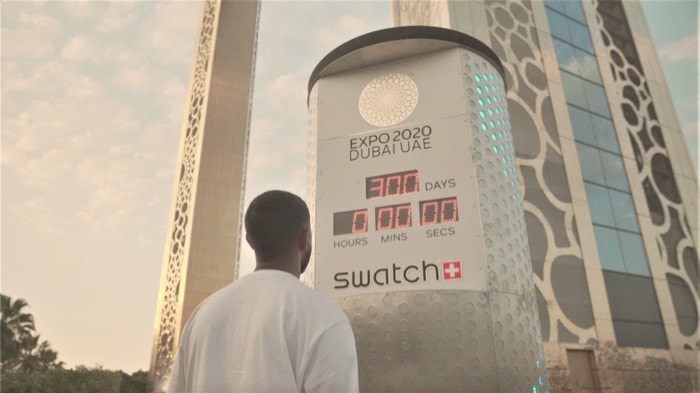 Swatch's official countdown clock has ticked into action, marking 300 days until Expo 2020 opens its doors to the world, after an exciting launch that saw Dubai-based professional skateboarder Karim Nassar take online viewers on a thrilling journey across the city, culminating at the Dubai Frame.

Created by Swatch – the Official Timing Provider of Expo 2020 Dubai – the countdown clock will help to engage and excite Dubai's residents and visitors, and inspire them to be part of the Expo 2020 journey.
Opening on 1 October 2021, in the UAE's Golden Jubilee year, Expo 2020 will celebrate 50 years of remarkable progress, and showcase the nation's ambitions and aspirations for the future to the world.

It will serve as a platform to bring together countries, global leaders and millions of people to impact positive change, while also celebrating world cultures, innovations, art, music and cuisines.

As the clock ticks down to the opening of the first World Expo in the Middle East, Africa and South Asia (MEASA) region, Swatch – which has a rich history of creative partnerships with pioneering athletes – will excite audiences with numerous surprises

Those surprises will including the launch of the Swatch Ibtikar watch. Meaning "innovation" in Arabic, Ibtikar is one of several Expo 2020-themed timepieces designed exclusively for the event. It features the Expo 2020 Dubai logo, which takes its inspiration from a 4,000-year-old ring found at an archaeological site in the UAE desert.

Expo 2020 Dubai marks the latest chapter in a long collaborative history with Swatch. In the past 34 years, Swatch has been an official partner at five Expos: 1986 in Canada, 1992 in Spain, 1998 in Portugal, 2010 in China and 2015 in Italy.