Where are we headed? The future smart cities and sustainable habitats
Leading development experts, technology visionaries and government officials from some of the world's most populous and resilient cities have gathered virtually to discuss the future of smart cities and sustainable habitats.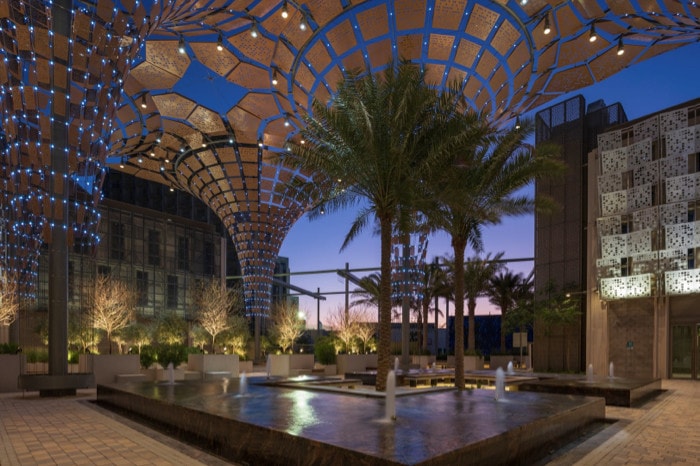 Hosted by Expo 2020 and delivered in collaboration with the United Nations Human Settlement Programme (UN-Habitat) and Siemens, Expo's Premier Infrastructure Digitalisation Partner, the Pre-Expo Urban and Rural Development Week is examining how the world's population will live and grow in harmony with our planet.
DAY 1 HIGHLIGHTS

Key Note Speeches: Her Excellency Reem Al Hashimy, Director General of Expo 2020 Dubai Bureau and UAE Minister of State for International Cooperation, Helmut von Struve, Chief Executive Officer, Siemens Middle East, and Maimunah Mohd Sharif, Executive Director, UN-Habitat welcomed audiences with inspiring and thought-provoking addresses:

Her Excellency Reem Al Hashimy, Director General of Expo 2020 Dubai Bureau and UAE Minister of State for International Cooperation, said: "We are rethinking the way that habitats – urban or rural, formal or informal – are designed and managed. Our challenge is to draft a blueprint to ensure that access to safe and affordable living conditions is a fundamental right, and to envision resilient and sustainable habitats that bear no cost to the environment of which we are a part. This is something that the Founding Father of the United Arab Emirates, the late Sheikh Zayed bin Sultan Al Nahyan, always stressed: the need to balance the building of the nation's infrastructure with the need to preserve and respect the land upon which we are blessed to walk."

Helmut von Struve Chief Executive Officer, Siemens Middle East, said: "Technology allows us to design new solutions for existing problems. But we can no longer pride ourselves with focusing on immediate satisfaction. We need to future-proof. Whether it's energy systems that form the backbone of our modern life, supply chains that provide drinking water to the most remote places, mobility and other infrastructure that improve our lives, buildings that keep us safe, or ingenious innovations that allow us to transform the everyday, resilience is key. At Expo 2020 Dubai, we are making this vision of resilience a global reality. By connecting 137 buildings via a cloud-based energy-analytics platform and other systems, we are effectively creating a blueprint that will inform future smart cities around the world."

Maimunah Mohd Sharif, Executive Director, UN-Habitat, said: "Urban and rural spaces are inextricably linked – economically, socially and environmentally – and cannot be adequately looked at in isolation from each other. UN-Habitat is pleased to be working in partnership with Expo 2020 Dubai on urban- and rural-related events, with a focus on reaching the last mile in slums and informal settlements. We look forward to working on action-focused solutions, leaving no one and no space behind."

Digitalisation, Collaboration and Storytelling: The Building Blocks for future Smart Cities: With our cities growing at an unprecedented rate, it is more important than ever to find new solutions for managing environmental impact, urban resilience and quality of life in our increasingly urban world. So how can we improve city life? The quick answer is: Make cities smarter! Across all areas of city life, technology and data can contribute to the effective management of urban areas, improving connectivity, sustainability, and liveability. This session explored the roles that digitalisation, collaboration and storytelling play in the development of human-centric, resilient smart cities.

Oliver Kraft, Executive Vice President – Expo 2020, Siemens, said: "Together with Expo 2020 Dubai and District 2020, we are co-creating a blueprint for future smart cities. With a focus on safety, security, quality of life and sustainability – which are key requirements in any future urban environment – we will transform data into value, using our MindSphere IoT. By building a digital twin of the Expo site, we will be able to aggregate, analyse and visualise data that allows smart decision making. This will enable us to connect more than 130 buildings to drive energy efficiency, optimisation and provide a centralised building-management system that will benefit visitors and operators alike. Plus, we will pilot the first green hydrogen storage solution in the region."

Nadimeh Mehra, Vice President, District 2020 – Transition Unit, said: "Smart cities will be sites that innovators use to take a human-centric approach to problem solving. District 2020 aspires to become a test bed for new technologies and innovations that will be enabled by the collaboration between the various entities that it will host. Through activating programmes such as Scale2Dubai and the Urban Lab, and through the curation of minds to unlock potential, we think that collaboration and the desire to collaborate towards a common goal will ensure a more secure, sustainable and community-first future. This is what our innovation ecosystem is designed to achieve."

Emily Feavel, Head of Program Management – Expo 2020 for Siemens, said: "Today's cities, faced with rapid urbanisation, climate change and evolving demographics, are handling some really complex challenges to meet the needs and increasing expectations of their citizens. Especially now, as we together navigate through a global pandemic, it is of upmost importance that we find new solutions. What we have found as these challenges have arisen is there has also been a rapid development of technology and digitalisation. This has afforded us new avenues for solutions and also given us this incredibly valuable raw resource – data – that we can then capture and use to optimise the systems that support our city lives."

Expo Family Updates: Expo International Participants and Official Partners presented a series of inspiring and informative talks that looked at solutions to tackle problems faced in cities around the world. This included an overview of UPS' innovative delivery solutions that aim to tackle congestion and pollution problems in the world's largest cities; a regeneration project in the Bahamian capital of Nassau that focuses on the needs of residents first; and case studies from Italy that examine how we can promote urban development that is healthy, green, economically sustainable, resilient and inclusive.
Peter Harris, International Sustainability Director, UPS, said: "UPS is moving the world forward with leading logistics solutions. We are committed to creating a more sustainable company – and world – by being customer-first, people-led and innovation-driven. We believe partnership and cooperation are crucial for growth and progress, and that is why we are excited to be participating in Urban and Rural Development Week. As one of the top 25 most sustainable fleets globally, we look forward to sharing our insights and expertise on some of the biggest issues being faced by our environment and cities today."

Ed Fields, Managing Director Down Town Nassau Partnership, said: "It has become increasingly appropriate to recognise that a city's focus on tourism and the visitor experience should be secondary to the needs of the resident. That includes history, art, culture, entertainment and, most importantly, the reintroduction of a residential component. When this is achieved, the result is an authentic experience and this is what a discerning traveller seeks."

Hon Virginia Raggi, Mayor of Rome, said: "The challenge of our time is resilience. It is necessary to reinvest, regenerate and restart to make cities increasingly liveable, inclusive, sustainable and innovative. The pandemic has strongly affected lives in cities, leaving us to face an even bigger challenge. This prompted us to speed up processes that were already underway, such as urban regeneration. In a city, it is essential to redevelop the abandoned spaces and the places that are no longer adequate to the needs of the territory. We are doing this by regenerating and giving new life to our existing heritage."