Expo 2020: Empowering women to inspire a better future
On International Women's Day, Expo 2020 celebrates the diversity of female talent working to deliver an exceptional World Expo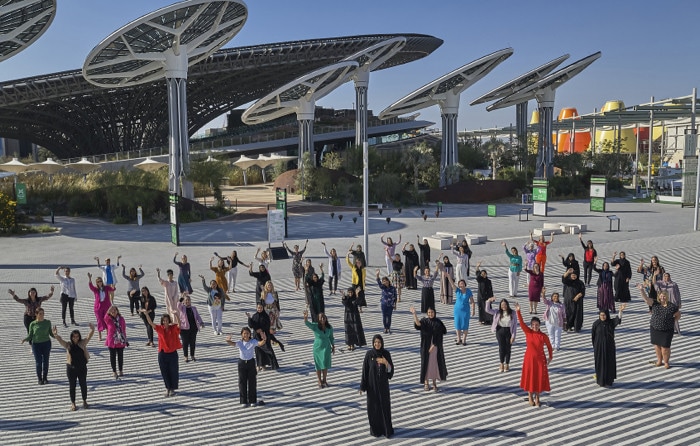 To mark International Women's Day, Expo 2020 Dubai paid tribute to all women – from architects and designers, to construction workers and Commissioner Generals – helping to coordinate, plan, build and execute the next World Expo.
On 8 March, Expo 2020 gathered some of the women who make up 52 per cent of the Expo team, including our Director General, Her Excellency Reem Al Hashimy, UAE Minister of State for International Cooperation, for a socially-distanced photograph to celebrate the diversity of female talent working to deliver the first World Expo to be held in the Middle East, Africa and South Asia (MEASA).
Women from a variety of fields – including Communications, Human Resources, Visitor Experience, and Innovation and Future Technologies – are an essential part of the Expo team responsible for delivering 182 days of once-in-a-lifetime experiences that will inspire, educate and entertain every visitor.
In addition, 38 of our International Participants are represented by female Commissioner Generals, while many of our visually striking, intellectually enlightening and emotionally inspiring Country Pavilions – including Australia, Oman, the UK and Sudan – were designed by female architects.
A global experience bringing together more than 200 participants, including 190-plus countries as well as multilateral organisations, businesses and educational establishments, Expo 2020 will offer an opportunity to showcase the UAE's values of inclusion, mutual respect, innovation, and cooperation.
Exemplifying these, Expo's diverse and dynamic workforce includes women from 62 nationalities – from Argentina, Australia, Canada and China to Italy, Kenya, the Kingdom of Saudi Arabia, the USA and, of course, the UAE – and 59 per cent of its female employees are aged 35 and under.
Indeed, youth is also at the heart of the next World Expo, with a number of programmes designed to inspire and empower the next generation to explore, create and learn.
Aside from hosting celebrations for next year's International Women's Day, gender equality, inclusion and the essential role that women play across society will feature across the entire six months of Expo 2020.
From 1 October 2021 to 31 March 2022, Expo will gather influential policymakers, thought-leaders, Expo participants and the public to showcase real-life stories of women who have led the way and encourage diverse, forward-thinking ideas and seeking solutions to help build a better, more equitable and just world for everyone.