A sweet future for Expo's adopted bees
Honey from bees rescued and relocated from the Expo 2020 site has been harvested and bottled at their new hive at The Sustainable City in Dubai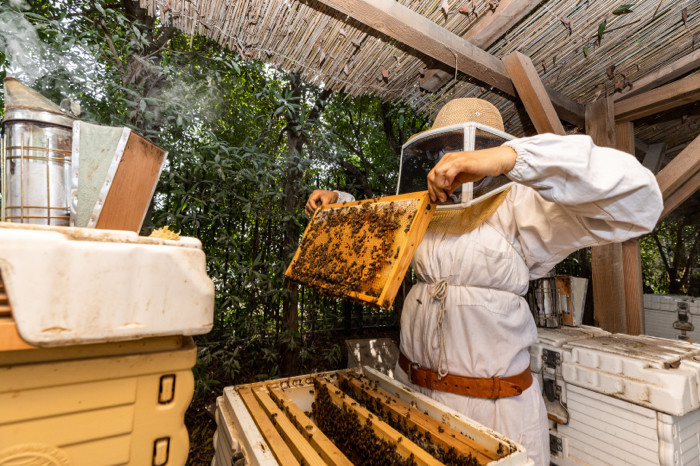 It's a tasty success story: honey from a hive of honeybees adopted by Expo 2020 Dubai's Sustainability team, after being discovered on-site during construction more than two years ago, has now been harvested and bottled at a specialist farm in Dubai.
In early 2019, the environmental team from ASGC – the contractor tasked with building Expo 2020's Sustainability District – informed Expo that its staff had found the bees' nest in a pile of steel rebars.
Following a complex operation to remove the insects, which involved sugar solution being sprayed on them to temporarily stop them from flying, the hive of Apis mellifera honeybees – which are not native to the UAE – was relocated to the Beekeepers Association's Bee Garden at The Sustainable City in Dubai.
Two years on from their rescue, a small group from Expo 2020's Sustainability team visited the garden, for the second year in a row, to help harvest and bottle the honey into 100 specially designed Expo 2020 jars.
Honeybees are crucial pollinators, holding a central role in agricultural production globally. Yet populations internationally have declined and conservation is now critical to ensure their future – and, in-turn, the world's food supplies.
The hive's rescue and relocation reflects wider efforts to protect biodiversity across the 4.38 sqkm site, with Expo's Sustainability strategy ensuring all sustainability targets are tracked, monitored and transparently reported.
All workers are also advised to alert Expo's Environmental team when they find any animals on-site, helping to ensure Expo 2020 Dubai will be one of the most sustainable World Expos ever.
In January 2020, Expo implemented a policy of Trap, Neuter, Release (TNR) and established a 'Cat Committee', comprised of Expo staff, to help relocate and rehome all cats found on site.
Since construction began, more than 20 animal species have been rescued and relocated off-site, including a falcon, a spiny-tailed lizard, baby hares and a variety of other reptiles and small mammals.